AMOS Art Competition 2018

"Weather-powered world"
AMOS is pleased to announce the winners of the 2018 Art Competition "Weather-powered world". Many thanks to our judges Climarte and Simon Torok from Scientell. The judges had a difficult time in making their decision as we had so many fabulous entries. AMOS would like to thank all participants for taking the time to enter and sharing with us their amazing artwork.  Scroll down below to see the winning artworks.
2018 Competition Winners

Day care/Preschool

Winner – "Apples" by Jikei Tong, Albuera Street Primary (TAS)
An imaginary creature blowing wind, she blows the trees down to eat the apples.
Runner-up – "Powering weather" by Tillman Park Early Learning Centre (NSW)
artwork too large to display on website
Primary School (Prep to Grade3)

Winner – "Playground surprise" by Jaz Burgoyne, Wahroonga Adventist School (NSW)
I have made a playground. It has a pond in it. This is how it works. The lightning hits the seesaw and then the buckets go into the water and then they scoop the water up and throw it onto the slide. Then it stores it up when you go on it. And when it snows you won't want to use it. That is how it works.

Runner-up – "My Hot Bath Tub" by  Arya Goel, Hills Adventist College (NSW)
Solar cells on the roof get energy from the sun. This energy heats the water collected from the rain water tank by the coil wrapped around the tank. When I turn on the tap, hot water comes out and I can have a hot bubble bath just by using energy from my environment.
Primary School (Grade 3 to Grade 6)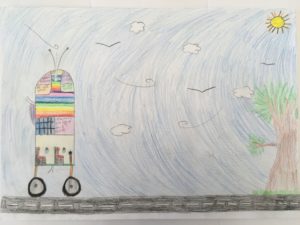 Winner – "
My weather powered robot" by 

Maxwell Fine, Scotch College WA

My weather powered robot is a car and It is powered by wind and sun.It can fit to people inside it and it is very easy to drive. It sucks in wind from the top and has a large solar panel to collect and store sun for electricity. It also has a wind blower for talking and that is powered by wind. It has two big wheels for driving and they are made of rubber so they don't pop. My car is changing the world because it is good for the environment and it does not burn any fuels. It is connected to other things like electric cars.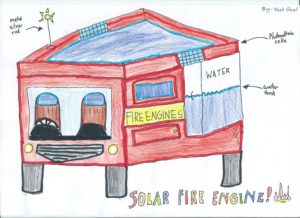 Runner-up – "The Solar Powered Fire Engine" by Yash Goel, Hills Adventist College (Kellyvalle Campus) NSW
The Solar Powered Fire Engine has two Photovoltaic cells on each side of the truck to power the engine to any emergency. A metal rod on top of the roof attracts lightening when struck and the electricity produced powers up the interactive emergency navigation system. On top of the engine is a huge glass tray which collects water into a 1000L tank, ready to fill up the hose. This fire engine is completely powered by the weather to save one house at a time.
Secondary School

Winner –
"Solar and water powered robots" by 

Carolenna Rogers,
John Curtin College of the Arts (WA)

This picture represents land and water polluted with rubbish. The land robots are solar powered to collect rubbish and transform the rubbish into clean air. The water powered robots collect water pollution and break it down into clean drinking water, after that they store it inside themselves until they emerge out of the water. The storage in these robots are infinite.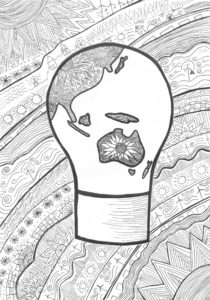 Runner-up "Light Up the Globe" by Munira Tabassum Ahmed,
Baulkham Hills Primary School (NSW)
This artwork depicts the world as a lit up light-bulb, with each world landmass an example of a place which uses a different type of weather-produced energy. (Australia using solar energy, Japan using hydro-power, etc.) The background consists of doodles of different types of weather produced energy: eg. solar power, hydro-power and wind power.
Previous winners